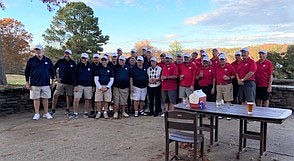 Photo submitted The Blue Team and Red Team members were the golfers in the Futures Cup tournament.
On the first weekend of November, 28 golfers participated in the Inaugural Futures Cup. This tournament was based on the famed Ryder Cup of the PGA.
The players were divided into two teams of 14 players each. The Red team was captained by Larry Apathy and the Blue team by Charley Powell. Longtime resident and golfer Andy O'Neil served as grand marshal of the tournament.
Dave Armstrong of Crye-Leike Realtors organized the event and was quoted saying, "It is important to all of us that this tournament was not just about having fun on a glorious weekend but it was special that we were able to help the future of Junior Golf in Bella Vista."
After three wonderful days of playing golf in the Ryder Cup format, the Red Team came out victorious.
On Wednesday, Nov. 11, Dave Armstrong presented a check for $2,000 to Darryl Muldoon, director of golf for Bella Vista, who said, "This money for Bella Vista Junior Golf will help to market the program, buy T-shirts, hats, golf balls and equipment."
This is why the tournament was called the Futures Cup Tournament.
Credit and thanks should be given to the men who played in the HOGS and WIMPS this past summer, as they supplied the talent for this Ryder Cup format and they are already looking forward to November 2021 for the Second Annual Futures Cup Golf Tournament.
Thanks were expressed to Dave Armstrong, Crye-Leike, the team captains and all the players for their generosity and commitment to an outstanding tournament and a great cause.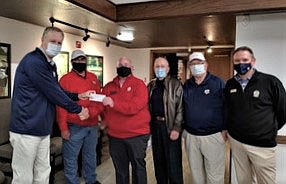 Photo submitted Dave Armstrong (left), Larry Apathy, Alex Sanford (PGA Professional), Andy O'Neil, Charley Powell, Darryl Muldoon, (Director of Golf Bella Vista) presenting a check for $2,000 from players and supporters of the Futures Cup Golf Tournament to the Golf Operations Committee to be used to support Junior Golf in Bella Vista.
Sponsor Content
Comments