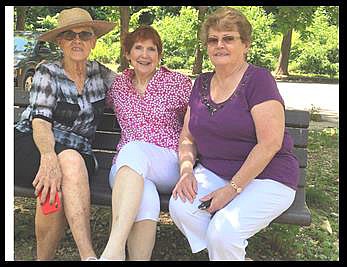 Photo submitted Neighbors, Betty Pierce, Mary Middleton and Dorothy Guffey enjoy getting together during the trying times of covid-19. Gathering at the Middleton home, they enjoy the feeling of continued fellowship of the Highland Christian Church's recorded services, and of others who are also watching, performing and ministering through their talents.
Village Bible Church
The live worship service is at 10:15 a.m. Sundays. Pastor Mark Voll will be preaching on the parables of Jesus during the month of July. Seating arrangements have been readjusted for social distancing. The service is live-streamed on Facebook; streamed to Vimeo.com/user 42482704; at www.villagebibleefc.org; and audio of the live service can be heard on 90.3 FM in the south church parking lot. The Oasis Food Pantry is open each Wednesday from 10 a.m. to noon for drive-thru pickup. For more information, contact the church at 479-876-5764.
A note from Pastor Mark ...
Just as the persecution of Christians in the first century had the unexpected though positive effect of dispersing the believers and spreading the Gospel, the covid-19 pandemic has resulted in us reaching more people than ever with the hope and life that is in the Gospel of Jesus Christ!
We abruptly stopped all our ministry gatherings, including worship services the week of March 8. Immediately, we started video recording worship in an empty sanctuary and then posting it to our website. We then looked for more ways to be the church though not gathered at the church building. We got acquainted with ZOOM, Facebook Live and, along with those who used our website for recorded services, found a growing "virtual congregation"!
Our small groups could use Zoom, as well as those committees and boards that needed to meet. We invested in technology expansion and found those in the church who could help us.
We asked our elders and everyone in the church family to start regular phone calling and using email and other strategies to check on folks and to try to help those more vulnerable or needy.
Through all this, our Oasis Food Pantry has continued to serve! Our leadership came up with a safe and effective way to provide "drive-up" food pantry services, including prayer! We have helped, on average, 30-35 households per week.
In May we held several parking lot services in addition to our online options. Then on May 31, we opened the church building for worship, though we continue the online options, too. Our worship space was modified for social distancing and we set up two additional multi-purpose spaces for worship; and that made it possible to have more people spread out within our 18,000 square feet.
This is not optimal because people need to be in community and the church is most effective in its mission when we're able to work together. So, while we're making the best of what we have, and in some ways are bearing even more fruit, we long to be able to be together in one place for singing, praying, studying God's Word, fellowship and ministry.
Bella Vista Lutheran Church
Live church services have resumed. You may also view the service on the website, www.bvlutheran.com
The Lutheran Hour is broadcast every Sunday over radio station KURM-FM (100.3) or KURM-AM (790) at 12:30 p.m.
The Shepherd's Food Pantry is again open on Fridays from 10 a.m. until noon. Packers and food handlers will continue to wear masks. Please do not visit if you are not feeling well.
The Sonday Riders will meet at 2 p.m., Sunday, July 26. All two-, three- and four-wheelers are welcome to join.
United Lutheran Church
United Lutheran Church is hosting its second Annual International Food Festival which continues through October this year. Once a month, the church plans and prepares a meal of a different international origin. Scandinavian is on the menu for July 25 and pickup will be between 4 and 7 p.m. at the church. The cost is $12 per meal and is offered as a "grab-and-go" service. Please pre-order by calling the church at 479-855-1325.
Highland Christian Church
View Sunday's service on the website at highlandchristianchurchbv.org or at YouTube and search Highland Christian Church, Bella Vista.
Ideas for others -- Congregants Gary and Mary Brown practice two ideas to stay connected during the quarantine. They created a "wish" bowl where they write down anything they are looking forward to after quarantine on a piece of paper and put it in the bowl. For example, going to Europe again someday or going to lunch with friends. Another idea they present is reading out loud from their travel journal as a reminder of the special trips they have taken which gives a sense of normalcy to their world.
Bella Vista Community Church
Sunday worship services have been resumed inside the church. Social distancing practices are in place. Visit bvcc.net for more information about the services, video sermons and daily devotionals to stay connected from home.
Bella Vista Baptist Church
Bella Vista Baptist Church continues its 9 a.m. parking lot service in the east parking lot. The 11 a.m. service has resumed inside its worship center while practicing social distancing. Please contact the church to sign up for a reserved space inside the worship center if it is your choice to attend the live service. This allows for the setup of the worship center with the correct number of seats and allows for the six-feet social distancing. You must wear a mask on your way into the building and out of the building. With the governor's new/updated guidance, while seated in the building you can remove your mask. The service is also posted online each Sunday afternoon.
During this unprecedented time of social distancing, Associate Pastor Robert McGee, pastor of music at Bella Vista Baptist Church, has made lots of phone calls, had several Zoom meetings and even met on the back parking lot. All these have been an effort to stay connected. Each attempt at staying connected is something new that no one ever thought we would do. Next week, the choir is going to meet and sing together and Pastor Robert says he can hardly wait. His hope is we will soon be back to normal, and says, "Until then, we keep pressing on the best we can."
Student Ministry met outdoors Wednesday evening, July 8. There were 21 students in attendance, all practicing social distancing procedures and yet having a great time together. To sign up or learn more, please visit www.bvbaptist.com/students.
Unitarian Universalists of Benton County
To prevent the spread of the new coronavirus, Sunday services at UUBC are canceled until further notice. Those who wish may attend worship services of The Unitarian Universalist Church of Fayetteville via Zoom with a link found on uufayetteville.org.
Unity Church of the Ozarks
All Unity Church of the Ozarks services and activities are postponed until further notice. Sunday services can be viewed live 10:30 a.m. Sunday on Facebook at Unity Church of the Ozarks or anytime thereafter. A daily 7 p.m. meditation at Unity's Facebook page is given by Larry Owensby. For more information, call 479-721-2752 or [email protected]
Presbyterian Church of Bella Vista
All in-person church services and activities are canceled until September. The session will revisit this decision at the July and August meetings. The weekly worship service is being recorded and posted to their website, www.pcbv.org, under the "Worship" tab. Each service will also be shared on the Presbyterian Church of Bella Vista Facebook page on Sunday mornings.
The Missions Committee thanks the congregation for their generous support of food and funds for Care and Share of Gravette. Collection for school supplies for the Gravette School District will begin the week of July 26. Donations can be dropped off at the church office. Supply lists are available at Walmart.
Sponsor Content
Comments